services
quote or sample?
sending artwork?
News from Bristol Copy & Print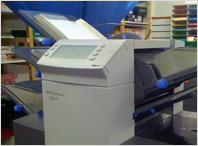 New Equipment
We have just taken delivery of a Pitney Bowes folding/inserting system. This brilliant machine will fold letters and insert into them into envelopes and then seal them. It has the capacity to also insert another piece such as a newsletter or brochure. Allied with our digital printers which will print the letters and mailmerged envelopes we can process hundreds of letters an hour. Let us take the strain of your mailing jobs - just give us a call.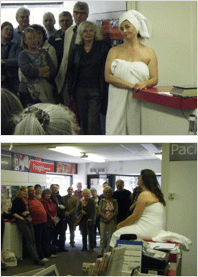 Theatre in Shops
We have just hosted a one woman show in our premises. It sounds strange but we were one of eighteen shops in Westbury-on-Trym village who hosted a show on Saturday 17th April.
The performance was part of a Trading Local initiative which was jointly organised by the Westbury-on-Trym Society, and the Show of Strength Theatre Company. Each show lasted just five minutes and was performed three times in the course of the day and our combined audience reached over one hundred and twenty people.
Our show was titled "Love in the Mirror" and was written by Annie Warburton and performed by Kim Hicks.
Great fun was had by all and we hope it becomes a regular event.
Keep up-to-date with Bristol Copy & Print